Carnaroli Rice Cipriani
The most important quality of rice for the preparation of a true Venetian risotto is that it must be cultivated in the countryside which is irrigated with spring water of Isola della Scala. My family is from Verona and this is the both the rice of my childhood memory, as well as that of my table.
The grain is larger and longer in appearance than others, it retains the starch until it is vigorously creamed and does not overcook. It has a color which tends to cerulean. The cooking time is slightly shorter: about 15 minutes. Due to its qualities, its use is suggested for the preparation of grainy, less creamy or wave-like risottos, or for the realization of rice salads.


The Traditional Recipes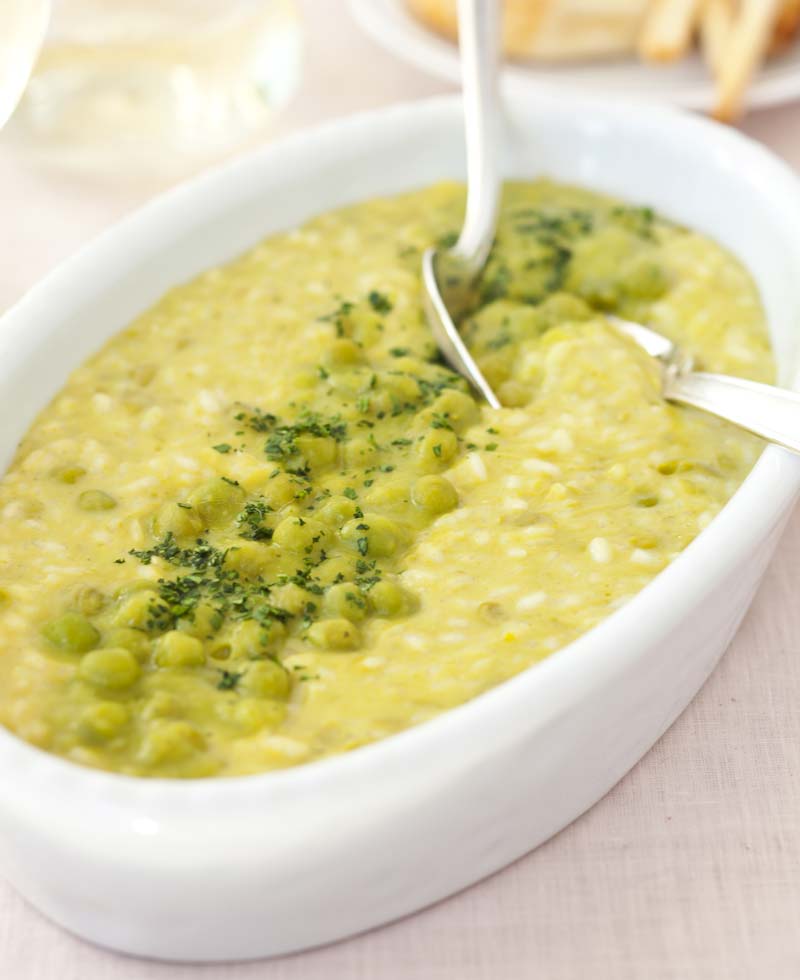 Rice and Peas
This is a very old Venetian recipe. The tiny sweet green peas from the islands in the lagoon make this taste more like a dessert than a rice dish. Risi e Bisi should end up much more all'onda (wavy" or more liquid) than regular risotto - almost like a soup - so be prepared to use at least a cup more stock. Although it is best when made with sweet fresh peas, you can use frozen petite peas to make Risi e Bisi
SERVES 6 AS A FIRST COURSE OR 4 AS A MAIN COURSE
3 tablespoons unsalted butter (45g)
1 medium onion, finely chopped
1/2 celery rib, finely chopped
2 cups shelled fresh peas (about 2 pounds 900g unshelled)
2 cups chicken stock (500 ml)
bouquet garni: 1 fresh thyme sprig, 1 bay leaf and 2 flat-leaf parsley sprigs tied in cheesecloth
salt
freshly ground pepper
Heat the butter in a 2-quart (2 liter) saucepan over medium heat. Add the onion and celery and cook, stirring constantly, until the onion is softened but not brown-3 or 4 minutes. Add the fresh peas, 2 cups (500 ml) stock, and bouquet garni and cook gently, uncovered, for 15 to 20 minutes. Season with salt and pepper. Prepare the risotto as directed in the basic recipe, stirring the cooked fresh peas and their juice or the thawed frozen peas into the rice when you begin cooking. Add enough extra stock at the end to make the risotto almost, but not quite, as liquid as a soup.