Organic Egg Pasta Pappardelle Cipriani
The classic Cipriani pasta sheet, an inimitable combination of subtlety and elasticity, soft and with an extraordinary yield. The excellence of home-made pasta, spread and cut on the marble top of the kitchens of the past.
Ingredients
Durum wheat semolina, egg (25%).
The Traditional Recipes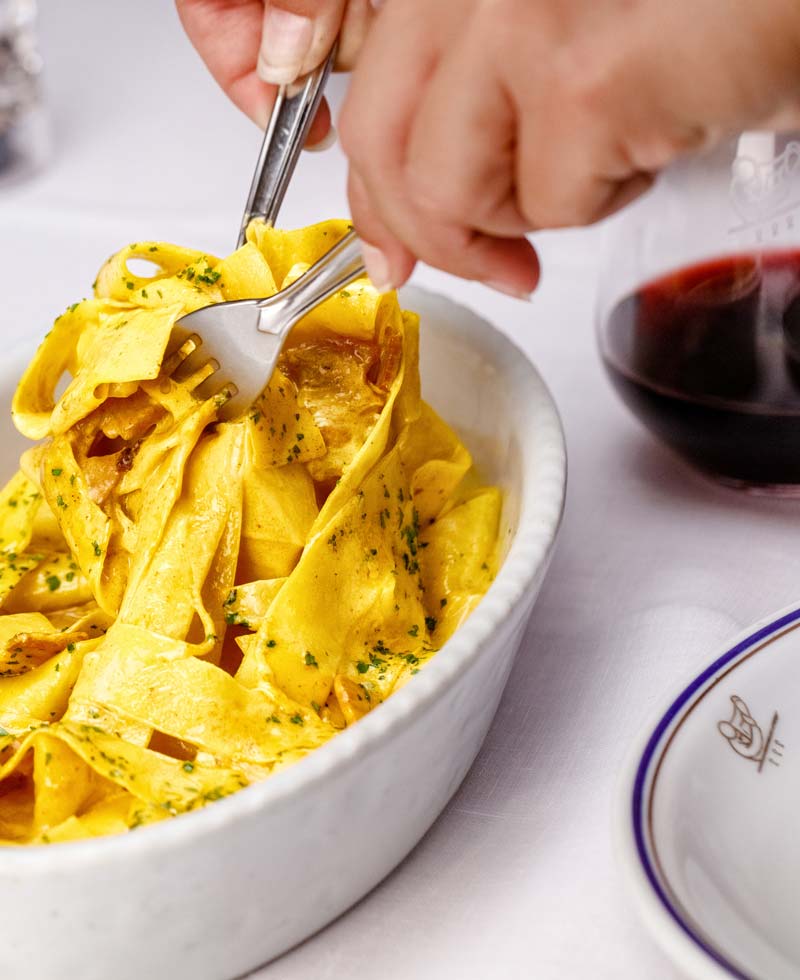 Egg Pasta with Chicken and Vegetable Sauce
In Venice it is against the law for children to play football in the streets, so the players are constantly on the lookout for the police. When they see them coming, they shout "Sbiraglia" as they scatter in all directions. I have no idea why this Venetian slang word has been given to this dish.
SERVES 6 AS A FIRST COURSE OR 4 AS A MAIN COURSE
2 tablespoons olive oil
2 whole skinless, boneless chicken breasts (about 1 pound/450g)
1/2 teaspoon curry powder
salt
freshly ground pepper
1/4 cup brandy (60 ml)
2 to 3 cups cooked Vegetables Primavera (500 to 750 ml)
Egg Pasta Pappardelle (330g)
1 tablespoon unsalted butter, softened
Cup freshly grated Parmesan cheese (15g) plus extra to pass at the table (30g)
Preheat the broiler.
In a large skillet over medium heat, heat the oil and cook the chicken for 3 to 4 minutes per side, until it is golden and cooked through. Remove it from the pan and cut it into small dice. Return the chicken to the pan and add the curry powder and salt and pepper to taste. Cook for a minute or so, pour on the brandy, warm it, and carefully ignite it.
Cook until the flames die out. Add the vegetables and toss well. Set aside 1/2 cup (125 ml) of the sauce for garnish. Salt the boiling water, add the pasta, and cook for 2 minutes or until al dente. Drain well in a colander and add it to the skillet with the butter and Parmesan. Toss well, transfer to a heated platter, and garnish with the reserved sauce. Pass around a small bowl of grated Parmesan cheese.