Cipriani durum wheat pasta is produced with 100% Italian organic semolina and its processing is made to preserve all the nutritional qualities; the very high protein index gives the pasta high elasticity and a good cooking resistance. Furthermore, thanks to the use of the copper die, a product with a rough texture is obtained that favors the absorption of the condiment.
Ingredients
Organic durum wheat semolina.
The Traditional Recipes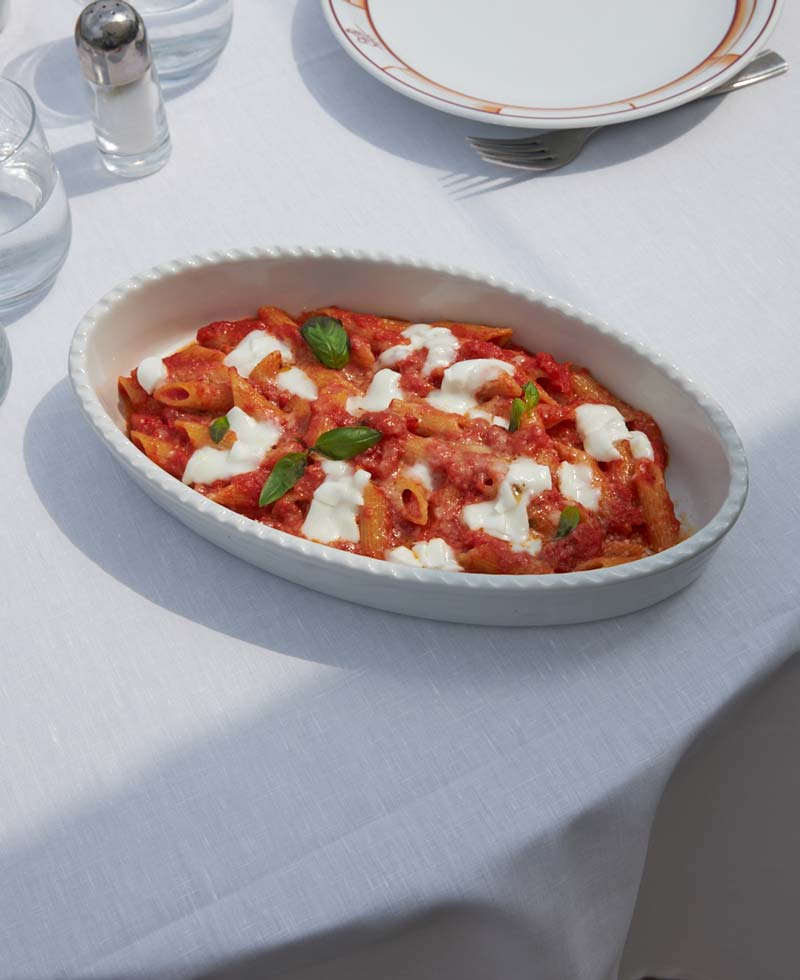 Penne with Tomato Sauce
Penne at Pomodoro is one of those basic recipes that every Italian restaurant should be able to do well. In fact, you can use the dish to judge a restaurant: Do they use a good brand of pasta? Do they cook it well — neither undercooked nor overcooked? Do they cook it to order? Is the tomato sauce fresh? Are the butter, oil, and cheese good? Unless all the answers are yes, forget about the restaurant!
For this dish you can use any pasta, any shape, white or green, with or without egg. If you're using dried egg pasta, you will need 3/4 pound (330g).
SERVES 6 AS A FIRST COURSE OR 4 AS A MAIN COURSE
1 recipe Fresh Tomato Sauce with Basil
1 pound of Penne (450g)
1 tablespoon unsalted butter, softened (15g)
1/2 cup freshly grated Parmesan cheese (65g) plus extra to pass at the table
6 fresh basil leaves for garnish
Bring a large pot of water to a boil.
Prepare the tomato sauce in a large skillet and keep it warm over low heat. Salt the boiling water, add the spaghetti, and cook for about 8 minutes or until al dente. Drain well in a colander and add the spaghetti to the skillet along with the softened butter and Parmesan cheese. Toss well to combine. Put the spaghetti on a heated platter and garnish with the whole basil leaves. Pass around a small bowl of grated Parmesan cheese.