Egg Pasta Pappardelle Cipriani with Spinach
Gratinated with ham they are the first classic dish of the World famous Harry's Bar. This dish is an Italian-French co-production. Pasta, ham and cheese are Italian while French are the sauce and cooking method. The secret is obviously in the ingredients and production methods; an element common to all Cipriani pasta references.
1 kg of the best quality durum wheat semolina 7 fresh eggs processed with precision, energy and patience Over 80 folding steps thanks to an exclusive machine designed by Arrigo Cipriani. After 14 hours of drying at low temperature, we obtain a thin and velvety sheet on the palate, which in a few minutes of cooking grows generous and perfectly 'al dente'.


Ingredients
Durum wheat semolina, egg (25%), spinach powder (2%).
The Traditional Recipes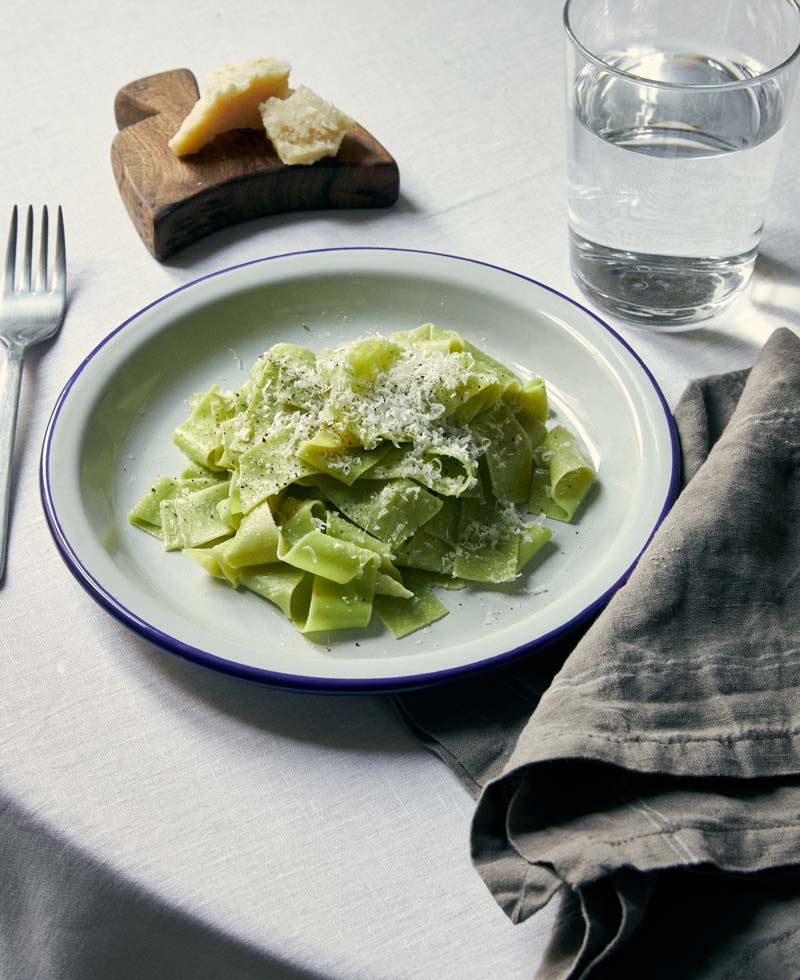 Egg Pasta Pappardelle with Spinach with Butter and Cheese
The simplest - and some say the best - way to prepare egg pasta. It should go without saying that the pasta, butter, and cheese must all be nothing less than perfect.
SERVES 6 AS A FIRST COURSE OR 4 AS A MAIN COURSE
salt
3/4 pound Egg Pasta Pappardelle with Spinach (330g)
3/4 cup (6 ounces) unsalted butter softened (170g)
6 tablespoons freshly grated Parmesan cheese (45g), plus extra to pass at the table
freshly ground pepper (optional)
Bring a large pot of water to a boil. Salt the boiling water, add the pasta and cook for 2 minutes or until al dente. Drain the pasta. Put the softened butter and the grated cheese into the hot pot, return the pasta to the pot, and stir vigorously with a wooden spoon or a fork for 2 or 3 minutes, until everything is creamy and well combined. Season with a little salt and a grind or 2 of pepper if you wish.
Put the pasta in a heated serving dish. Serve immediately, passing around a small bowl of grated Parmesan cheese.