Egg Pasta Tagliardi Cipriani
Tagliardi: these are the Cipriani interpretation of the maltagliati. They come in squares of about 3 centimeters by 3. The particular format makes them very versatile, they are perfect dipped in our original pasta and beans recipe. Another great classic served in our restaurants: the Tagliardi with pesto.
Ingredients
Durum wheat semolina, egg (25%).
The Traditional Recipes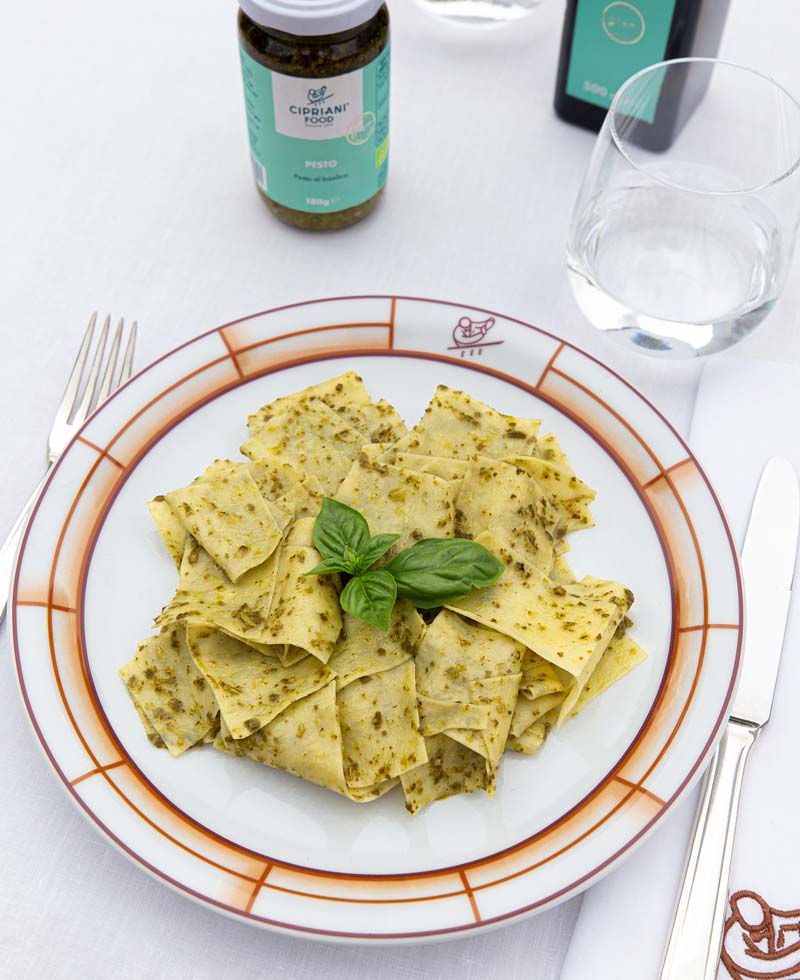 Egg Pasta with Basil Sauce
This sauce comes from Genova, which is famous for its basil. The gentle climate of the Italian Riviera gives Genovese basil a particular flavor that is different from all other basil, but this sauce is very good made with any fresh basil you can get. Although it keeps well in the refrigerator and freezes successfully, pesto is best when made 24 hours before using it.
SERVES 6 AS A FIRST COURSE OR 4 AS A MAIN COURSE
4 cups fresh basil leaves (about 60g)
1 garlic clove
2 cups flat-leaf parsley (about 30g)
2 tablespoons pinoli (pine nuts)
salt
freshly ground black pepper
1/2 cup olive oil (125 ml)
1 recipe white tagliardi, fresh or dried
1 cup freshly grated Parmesan cheese
(130g) plus extra to pass at the table
Place the basil leaves, garlic, parsley, pinoli, salt, and pepper in the bowl of a food processor fitted with the steel blade and process, scraping down the sides of the container with a rubber spatula. Gradually add the oil and process until the pesto is well blended. Transfer the puree to a bowl.
Add salt to the boiling water and cook the pasta for 4 minutes or until al dente. Drain well in a colander. Put half the pesto in a warmed large serving bowl; add the pasta and sprinkle on the Parmesan. Mix gently, taste, and add more pesto if you wish. Pass the remaining pesto separately. Serve immediately, passing around a small bowl of Parmesan cheese.